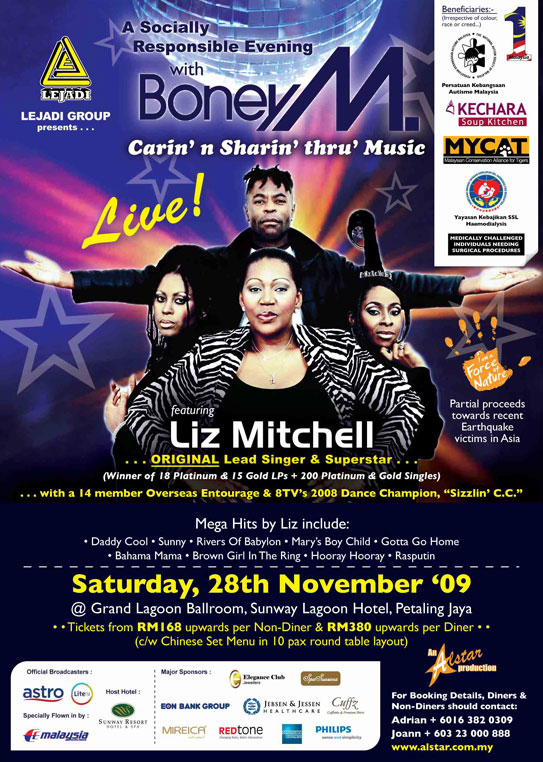 Благотворительное шоу Boney M. feat.Liz Mitchell в концертном зале люкс-отеля Sunway Lagoon (Куала-Лумпур, Малайзия) 28 ноября 2009
28/11/2009 Charitable show in Kuala Lumpur (Malaysia)
LINK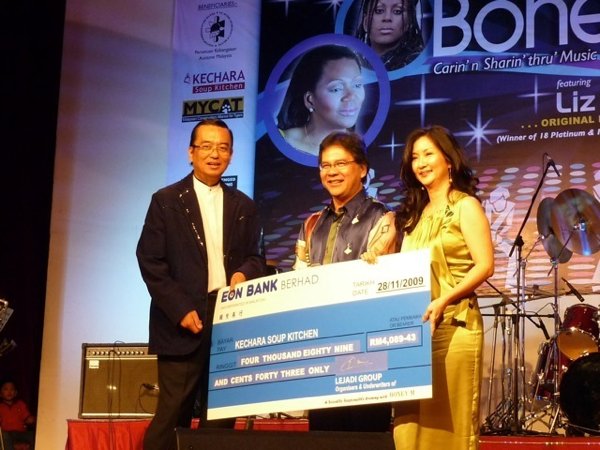 November 29, 2009
With a long history of holding charity events, the organisers of A Socially Responsible Evening with Boney M was bound to raise heaps of money for their five beneficiaries...Kechara Soup Kitchen included!
As one of the five non-governmental organisations (NGOs) involved, we set up our information booth outside the ballroom. Complete with an LCD screen showing KSK's video, our staff and volunteers used the cocktail reception as an opportunity to speak to guests about what KSK do.
The concert itself was preceded by a dinner, a surprise jazz performance by Michelle Nunis, a lucky draw and another chance to raise yet more money in the form of an auction.
Then came the moment everyone had been waiting for - to a rousing introduction complete with a thumping bassline and blaring trumpets, Liz Mitchell made her entrance. After a haunting rendition of Amazing Grace, Mitchell launched into one of her most famous numbers, Sunny.
At 57, Mitchell showed she's still got it. Her voice never once wavering, there was not a single note out of place. Getting everyone to their feet, she worked the stage and made her way through the crowd, belting out hit number after hit number, much to the delight of the audience.
However, the hit of the night was the donation to KSK! On behalf of all the clients we have, we'd like to thank the organisers of the evening for inviting KSK to be a part of the proceedings, and for their generous donation of a cool RM4089.43.
With KSK expanding its premises, sponsorship is always needed so we can continue to help the ever-increasing amount of clients we face. For more information on KSK and to find out how you can volunteer your time, or donate in money and kind, please contact our Project Director, Justin Cheah at +6012 203 2135 or justin.cheah@kechara.com .
LINK

---
Права доступа к этому форуму:
Вы
не можете
отвечать на сообщения