Frank Farian подводит итоги на DW-TV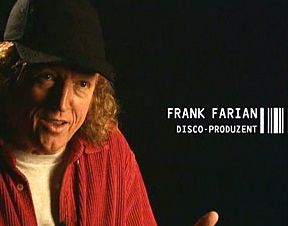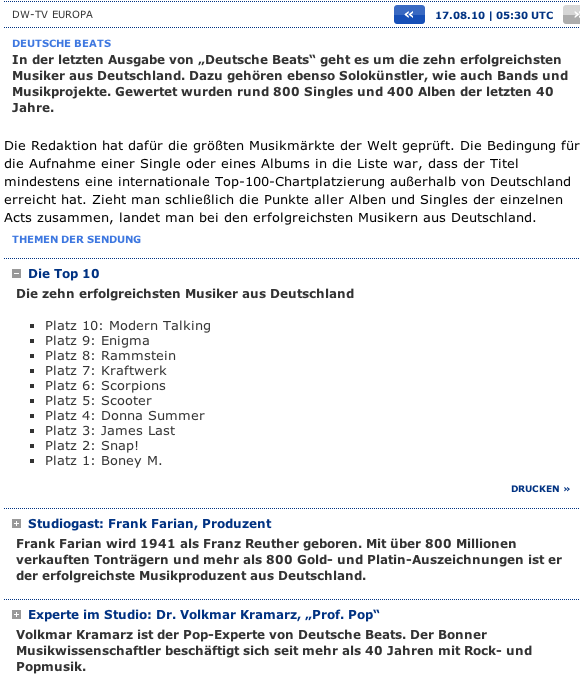 LINK


DEUTSCHE BEATS

In der letzten Ausgabe von "Deutsche Beats" geht es um die zehn erfolgreichsten Musiker aus Deutschland. Dazu gehören ebenso Solokünstler, wie auch Bands und Musikprojekte. Gewertet wurden rund 800 Singles und 400 Alben der letzten 40 Jahre.
 
Die Redaktion hat dafür die größten Musikmärkte der Welt geprüft. Die Bedingung für die Aufnahme einer Single oder eines Albums in die Liste war, dass der Titel mindestens eine internationale Top-100-Chartplatzierung außerhalb von Deutschland erreicht hat. Zieht man schließlich die Punkte aller Alben und Singles der einzelnen Acts zusammen, landet man bei den erfolgreichsten Musikern aus Deutschland.

Die Top 10
Die zehn erfolgreichsten Musiker aus Deutschland
 
▪ Platz 10: Modern Talking
▪ Platz 9: Enigma
▪ Platz 8: Rammstein
▪ Platz 7: Kraftwerk
▪ Platz 6: Scorpions
▪ Platz 5: Scooter
▪ Platz 4: Donna Summer
▪ Platz 3: James Last
▪ Platz 2: Snap!
▪ Platz 1: Boney M.

Studiogast: Frank Farian, TOP-Produzent №1
Frank Farian wird 1941 als Franz Reuther geboren. Mit über 800 Millionen verkauften Tonträgern und mehr als 800 Gold- und Platin-Auszeichnungen ist er der erfolgreichste Musikproduzent aus Deutschland.
Seine bekanntesten Projekte sind Boney M., Eruption, Milli Vanilli, No Mercy und La Bouche. Bis Mitte der 70er Jahre trat Frank Farian auch als Sänger auf. Heute arbeitet er nur noch als Produzent und Komponist. Regelmäßig pendelt er zwischen seinem Studio in Miami und in seinem Wohnsitz in Rosbach bei Frankfurt/Main.

Experte im Studio: Dr. Volkmar Kramarz, "Prof. Pop"

Volkmar Kramarz ist der Pop-Experte von Deutsche Beats. Der Bonner Musikwissenschaftler beschäftigt sich seit mehr als 40 Jahren mit Rock- und Popmusik.
Seit 2001 lehrt er in seiner Heimatstadt an der Universität Bonn Musikwissenschaft und "Soundstudies", außerdem hat er verschiedene Musikbücher verfasst (darunter "Die Pop Formeln", "Die E-Gitarre" und "Die HipHop Formeln"). Seine große Leidenschaft gehört der Gitarre: In seiner Freizeit spielt er in mehreren Rockbands.

LINK


GERMAN BEATS
In the final edition of German Beats we meet the ten most successful German music acts ever. We analyzed all the major international music markets and studied data on 1200 German music productions that were global hits in the past forty years.

These are the acts from Germany who have made it into the international charts on a regular basis. From Modern talking to Boney M via Kraftwerk and Scooter.

The Top 10
The Top Ten Music Acts From Germany

▪ Nr. 10: Modern Talking
▪ Nr. 9: Enigma
▪ Nr. 8: Rammstein
▪ Nr. 7: Kraftwerk
▪ Nr. 6: Scorpions
▪ Nr. 5: Scooter
▪ Nr. 4: Donna Summer
▪ Nr. 3: James Last
▪ Nr. 2: Snap!
▪ Nr. 1: Boney M.

Studio Guest: Frank Farian, TOP-Producer №1
Frank Farian was born in 1941 and his real name is Franz Reuther. With 800 Million units sold and more than 800 Gold and Platinum discs he is Germany's most successful producer ever.
His top projects were Boney M., Eruption, Milli Vanilli, No Mercy and La Bouche. Up till the mid seventies he was a singer in his own right. Today he's still writing and producing music as he commutes between his Miami studio and his home in Rosbach near Frankfurt.

Studio Expert: Volkmar Kramarz aka Professor Pop
Volkmar Kramarz is our resident expert on German Beats. The musicologist from Bonn has been analyzing rock and pop for forty years.
In 2001 he took up a teaching post at the University of Bonn. He is the author of numerous works on rock, pop, hip hop and the electric guitar. He is also a member of various music groups.


Похожие темы
---
Права доступа к этому форуму:
Вы
не можете
отвечать на сообщения